Rope and Harness & Ladder Safety
Advanced Adjuster Training Courses: ​
Rope and Harness & Ladder Safety Course
Learn How You Can Eliminate the risks Associated With High,
​Steep & Slippery Roof Inspection in this 8-hour course.
The industry trend for a majority of Independent Adjusting firms is now to require Rope & Harness training for their core adjusters. Simply put, they are looking for more accurate work product and less liability. Look in any new neighborhood and you will notice that the building trend has begun to lean towards steeper and steeper roofs. In all actuality, the chances that you will encounter a claim with a high, steep or slippery slope on your next assignment are around 90 - 100%.
Feeling a bit overwhelmed?
Don't be, this training is not designed to scare you off of the roof, it is designed to make you more comfortable, take out some of the heavy lifting associated with steep roofs all the while maintaining a level of safety that all carriers expect out of their adjusters.
Remember, the only person that is responsible for your safety is YOU!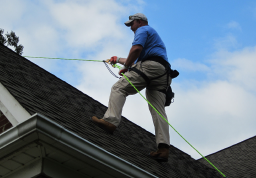 Included Topics:ANSI & OSHA Compliant Technical Skills Including:
Equipment selection and care

Safe Working Loads (The math behind the climb)

Ropes and their care

Knots and their application

Identification, set up and use of safe climbing anchors

Creating safe portable anchors
Belay Essentials
Rope placement devices

Lifeline placement

Rope and Harness limitations

Ladder Safety

Hooking Up and Static Climbing

Static Belay – Single climber techniques
Upon course completion, each student will complete both a practical as well as a written exam to ensure course material absorption.
​Check the course registration page to see course dates